HyperShock V6 | The Best One Yet.
New Season? New HyperShock. We've brought a new iteration of HyperShock to every season of BattleBots, trying to out-do ourselves each year. We focus on adding power, bringing in new features, incorporating the latest technology and, of course, making it look as cool as humanly possible. Where would we be without some HyperShock flair? Season 6 is no different for us, so we have a brand-new ground-up design that we're confident is the best yet.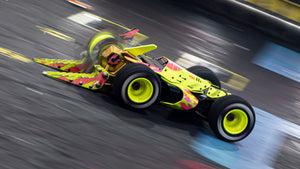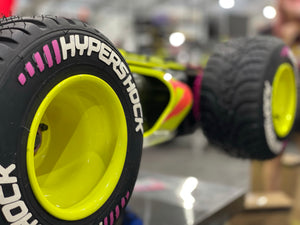 DriveTrain
We've finally honed in on a drivetrain, the first year ever to use the same motors and electronics as the previous year. Now running at higher voltage, HyperShock has more torque at the tires than ever before for better burnouts and drifting donuts. Even low speed torque has been improved with the in-house development of custom motor encoders. Drive belts have been left behind in favor of the golden motorcycle chain powering the weapon, ensuring all the power hits the BattleBox Floor. The stickiest tires in BattleBots are back and wrapped around lighter & deeper-dish rims which better protect the drive axles and hubs.
Weapon
Weapon power doubled up in the off-season, bringing dual motors for extra speed and follow-through. At 1.25" thick each, our S7 weapon disks in the Double Disk configuration are almost double the thickness from season 5. Coupled with a brand new magnesium weapon hub, this new Double Disk weapon is the most powerful yet fitted to a HyperShock. The Single Disk configuration got a bump too, going from a 1.5" singular disk to a 2" thick AR500-S7-AR500 sandwich that can better absorb hits from horizontal spinners.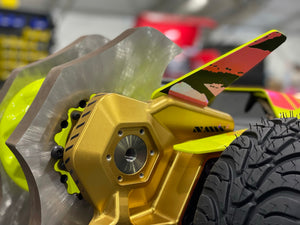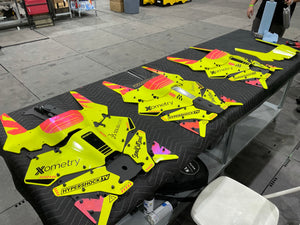 Armor
With Bots getting more and more destructive, effective armor is critical for success. We added thick Titanium, Aluminum and AR500 Steel armor all over, ensuring it's the best armored HyperShock ever built. We have Top and Side Armor components on the shelf in all 3 materials to fit our needs, all identically powder coated and vinyl-prepped so our opponents don't know what flavor we're running.
Serviceability
We've learned a lot over the years about what works and what doesn't in the pits between matches. To save time and simplify repair on-the-fly, HyperShock's guts have been modularized. Any electrical subsystem can be swapped out with just 2 tools for easy repair or inspection.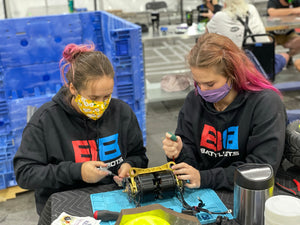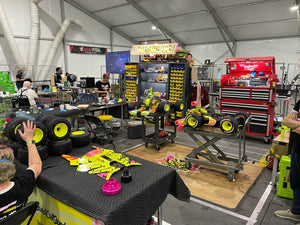 Spares, Tools & Equipment
A few seasons ago, BattleBots Executive Producer Aaron Catling told teams we needed to "roll deep like a NASCAR team." We took this advice to heart. This Season, we had 2 HyperShock's up and running at all times and parts for another on the shelf. Our massive cabinet housed all our spare components & hardware in easy to access bins and our big red Milwaukee Tool Box carried all our tools, neatly organized for quick-draw efficiency. At peak performance, we had a staggering 11 team members working together as the best pit crew in the competition. Team HyperShock came ready to kick some bot.
Want to learn more?
Click below for deep dive videos & blogs about the build process, how HyperShock was designed and why we made decisions the way we did, what new things we tried, and how we did in our matches this year! Hang on tight, it's quite the season.