Gear Customizer
Can't quite find what you were looking for? Build your own HyperShock Gear to fit your style. Mix & match our Designs and your Text on your favorite color tee, hoodie, and more!
Check below for tips & tricks to improve your creations!
Tips & Tricks
Our Customizer lets you add your own Text and any of our Designs to the Gear of your choice! Want to bring your Gear to the next level? here's how to enable Flex Printing (vinyl transfer graphics) on your Text and select Designs.
Step 1 | Pick Flex Print Compatible Design
Add your Text or Choose one of the black & white designs in the Design Selector.
Note: Not all designs are Flex Print compatible
Step 2 | Changing Print Method
All designs start with "Digital Direct" by default for the Printing Method. In order to select one of the Flex Print options, click on the Print Method drop menu.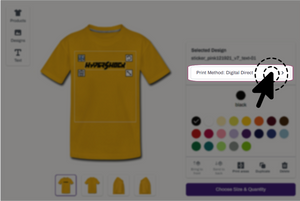 Step 3 | Select a Print Method
Select one of the Flex Print options for your Design or Text. You'll then be able to choose from a selection of available colors and textures. Follow this process for each Design or Text you add, arranging them as you like!
Note: Stacking of multiple graphics is only possible with Flex Print (smooth)